This post may contain affiliate links. Any purchases you make through these links will provide me with a small commission at no extra charge to you. All opinions are 100% my own.
The chilly air made me shiver as I hopped out of the car at 4:30 a.m., glad to have a hot coffee in my hands. I ducked my head to keep the icy wind from blowing sharp chunks of snow against my face.
My husband and I had been married only four months, and it was time to initiate him into our family's tradition of going out in the frigid and dark early morning hours of Black Friday. My younger sister, my husband, and I giggled a little as we skated across the snowy pavement of the Kohl's parking lot.
As a minimalist, natural-minded mama, you might think I am against Black Friday. I have actually always been a fan, but my opinion and involvement have changed a bit over the years.
There are certainly well-known minimalists who speak about the absurdity of the "holiday," like this retweeted quote by Ryan Nicodemus and Joshua Fields Millburn (of theminimalists.com).
"Black Friday is the day we trample people for things we don't need, the day after being thankful for what we have." —@stevenamcqueen

— The Minimalists (@TheMinimalists) November 25, 2014
There is a lot of truth there. But we are all decluttering and simplifying for different reasons and live out minimalism in different ways. I don't know about you, but I still love the excitement of getting a deal on a few things, especially if they are something I would have bought anyway! (Obviously, it is not worth trampling anyone though!)
The Pros and Cons of Black Friday
Those first years we went out on Black Friday were not about buying as much stuff as we could get our hands on. Here is what drew me to venturing out on the day after Thanksgiving:
I loved having a set shopping day to shop with my mom and my sister. We would start in the evening on Thanksgiving Day, as we laid out all the papers and planned out our strategy for the next morning.
I loved including my husband in the tradition, and love that he and I usually still go together (especially because we rarely go out shopping). We look at it as an adventure, and it is always exciting to get a SUPER good deal.
I really love getting almost all my Christmas shopping done on one day, before the day really begins.
The first years we were married, our budget was SO tight, and is still tight, three kids and a house later. We love having a way to still buy gifts that we know our family would love and use (most of which only cost $5-$10 on Black Friday).
There are definitely some things I do not enjoy about Black Friday:
First of all, it USED to be on Friday! I am not all about standing in line on Thanksgiving to get what I want, when I could be enjoying the holiday with family. It is a shame that people have to work at the stores and coffee shops and gas stations, instead of being home. (Personally, we don't go out for any of the Thursday deals, and if we miss out, we miss out!)
We have been to stores where people were CRAZY about getting whatever deal or coupon was happening, to the point were they were willing to fight or push or trample. I feel sad that people would put saving $20 or $100 (or any amount) over the safety of other human beings.
It is easy to get caught up in the deals, and buy more STUFF just because it is on SUCH A GOOD SALE! This is a pitfall I fell into often in the early days of Black Friday shopping. It has taken a complete mindset makeover to change that. When we got rid of most of our clutter, I realized many of those things were not even that important to me, and I am much more careful about what I spend on now (even if it's JUST $5).
In the end, I think you can be a minimalist and participate in Black Friday shopping. Just make sure you are not using it as an excuse to buy MORE. In our house, Black Friday has switched to a day to get a little Christmas shopping done, and get some great deals on essential items like quality shoes, winter gear, clothing, and other things we would be buying anyway (mostly for the kids).
So what am I buying this year?
I'm glad you asked, because I want to share these deals with you. 😉 And most of them have already started!
Here are my three absolute favorite Black Friday deals this year:
1. Carter's – $5-$15 Doorbusters, 60% off Entire Site + Free Shipping on All Orders!
 NOW until 11/24. Sadly, I won't be making it in to a Carter's store this year, but I already placed my order online for pajamas! You can't beat $5 cotton pajamas and $15 for quality tennis shoes and boots. Sometimes we get holiday dresses here too.
And if you go to the store itself, the first 100 people in the door get a gift card. It could have $5, $50, or $100 (one year we were SUPER excited to get a $50 card, and it paid for PJs and dresses for all three of my girls). Click here to check for locations near you and store hours or shop online.

2. Tea Collection – $15 dresses and hundreds of other items on sale + enter their "Perfect Holiday Sweepstakes! NOW through Black Friday
We don't usually shop Tea Collection because we live on a tight budget, but in recent years the girls usually get one outfit from Tea or Hanna Andersson at Christmas. They get this as the "wear" part of their four gifts (something they want, something they need, something to wear, something to read).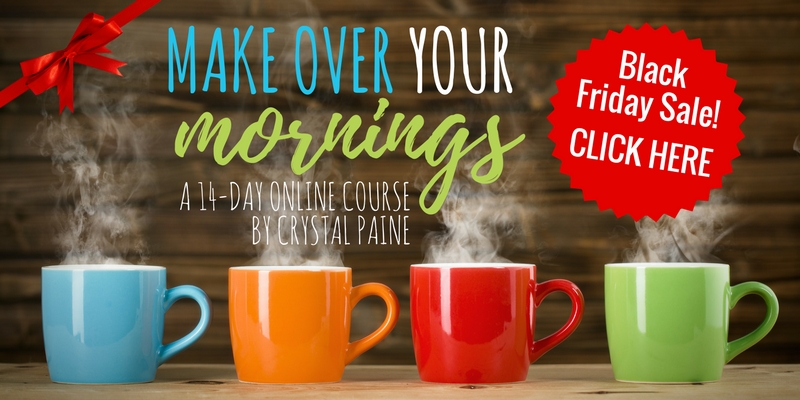 3. Crystal Paine from Money Saving Mom's Courses will be on sale from midnight Thursday night until Monday night 11/27 at midnight.
Her Makeover Your Mornings course was life-changing for me, and was how I got started working toward some of my goals instead of just making it through the day-to-day. I also LOVED Make Over Your Evenings and Make Over Your Year! All three of those courses are on sale for just $10 each, which is such a great deal!
Check out all of Crystal's courses on sale here. Snag them now and set yourself up for a great a great start to 2018!
A few other Black Friday deals to check out: